Welcome to the CNMI Department of Labor website
The CNMI Department of Labor is committed to facilitating the training and full employment of U.S. qualified workers as well as providing acurate, timely data to policy makers, regulatory agencies and the business community.
---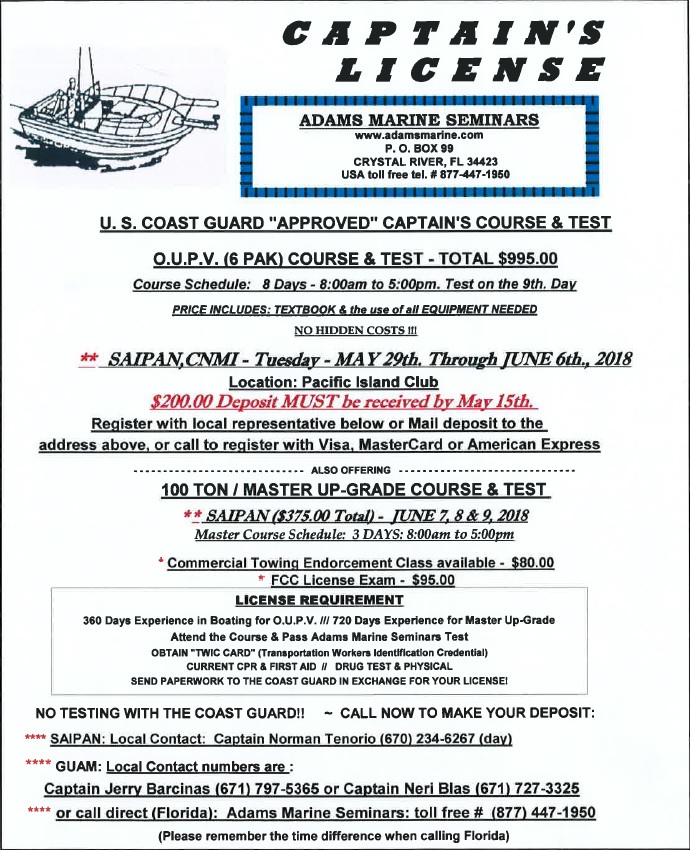 ---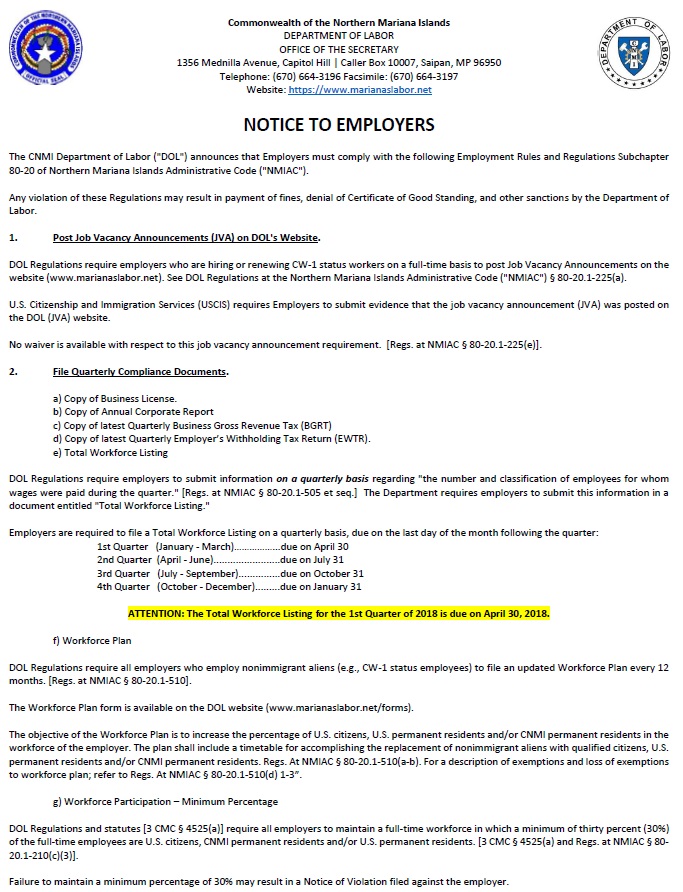 ---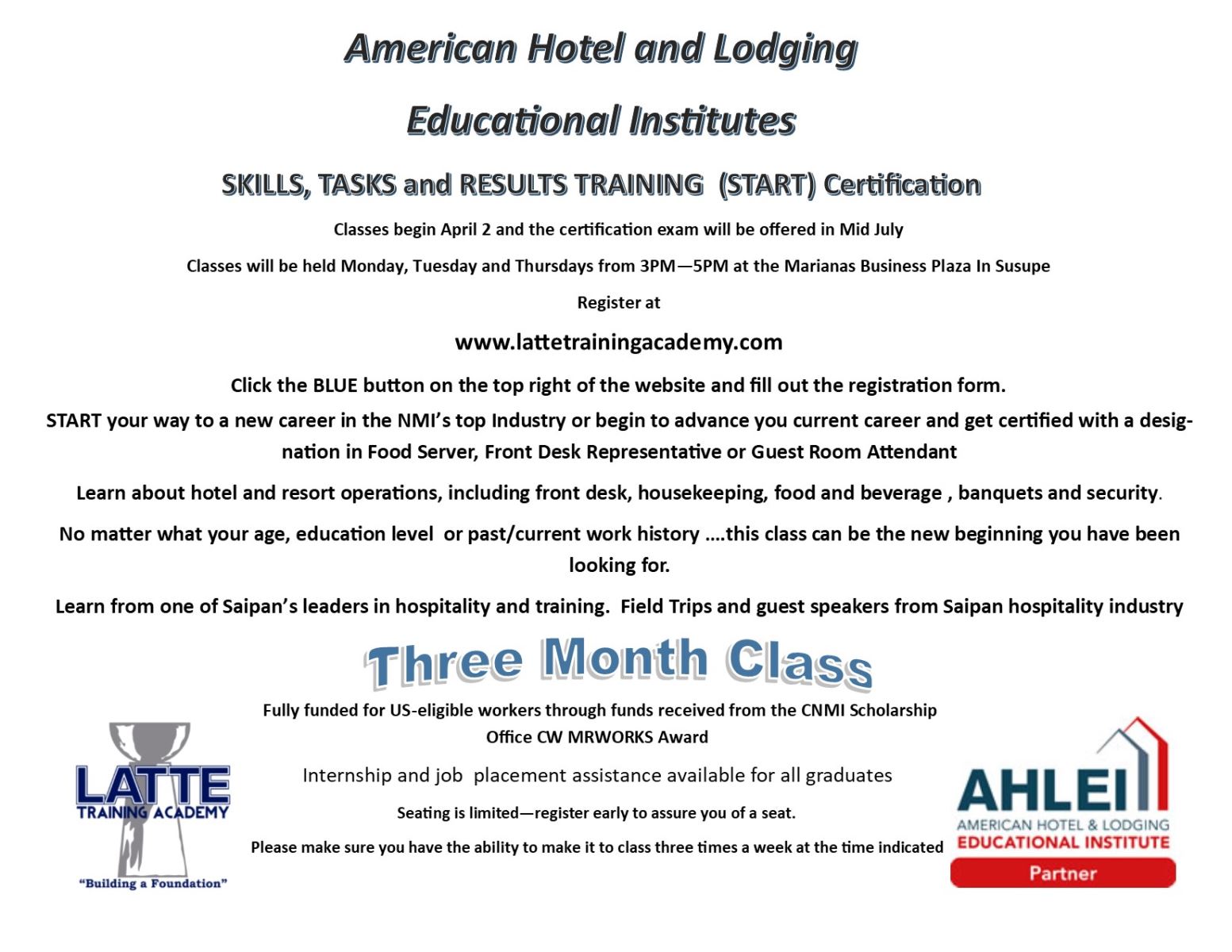 ---
CNMI Labor Conducts Enforcement Outreach March 7, 2018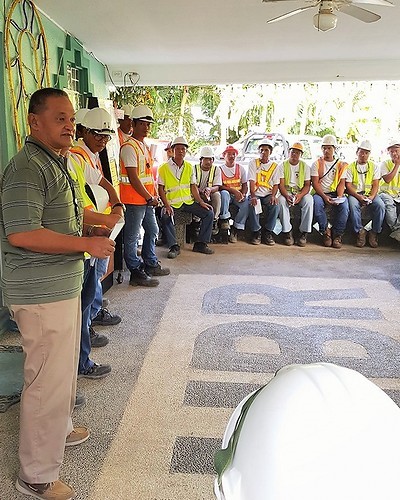 Secretary of Labor Vicky Benavente, along with the Division of Enforcement continues to conduct outreach with the private sector.
Benavente shares that collaboration is key to addressing workforce misinformation and enforcement concerns.
"I am pleased that our private sector is reaching out to our department to discuss labor laws and renew their knowledge of current issues. We recently met with Marvin I. Buston who is the administration manager of HBR International and general manager Eduardo Lim. HBR is a company that does general construction, building maintenance services, and manpower supply services and has been in business in the CNMI for 27 years. We want to highlight the fact that we have companies who have been in the Commonwealth for decades and are diligently abiding by our local and federal laws and adopting best practices. We encourage more of our private partners to learn more as we build towards improving our labor policies and workforce," Benavente said.
Enforcement Director Gil San Nicolas noted that at the request of HBR International, the Department of Labor met with the staff and management to discuss information about CNMI labor laws last week.
"We provided information such as CNMI federal minimum wage, the CW-1 program, medical and repatriation expenses to name a few. The HBR employees asked questions about time and attendance, holiday pay, and safety standards. They were also informed about DOL regulations regarding their employment as contract workers. We want to reiterate that strengthening this dialogue improves enforcement and employee protection. There is still so much work to be done but we are seeing positive feedback from employers and their companies," San Nicolas said.
Gov. Ralph D.L.G. Torres emphasized that labor outreach is building on the current and future needs of the commonwealth.
"Our private sector needs to be provided with reliable information and resources, and that labor is adapting to improved policies to build towards a resilient workforce. While the department continues its data collection, we must not lose sight of the key industries and continued assistance and collaboration in filling information gaps so that we can address the future of our economy and our community," Governor Torres said.
Secretary Benavente added that while training to enhance employment services took place just last month, communicating with employers is needed at the same time.
"We are pushing to develop our workforce and encouraging companies to be as competent in current labor practices as possible. We stand by our commitment to the long-term and welcome more of our small businesses and large companies to reach out to us for clarification or to renew their knowledge," Benavente said.
For more information on the Division of Enforcement, log on to www.marianaslabor.net or call 322-4365 or 323-9938.
---
NOTICE OF PUBLIC COMMENT
FOR
CNMI UNIFIED 4-YEAR STATE PLAN MODIFICATIONS
The CNMI State Workforce Development Board invites the public to share comments regarding the draft modifications of the Workforce Innovation and Opportunity Act or WIOA Unified State Plan and Policy Manual for the Department of Labor-Workforce Investment Agency Division.
Below are the locations, dates and times for the public meeting. All comments must be received by 4:30pm on Friday, March 09, 2018.
TINIAN

Monday, March 5, 2018

1:00pm-4:00pm

Tinian Public Library

ROTA

Wednesday, March 7, 2018

8:00am-2:30pm

Northern Marianas College

SAIPAN

Friday, March 9, 2018

7:30am-4:30pm

DOL-WIA Division

Bldg #1353, Mednilla Ave.

Capitol Hill
A copy of the modifications can be viewed at DOL's website (www.marianaslabor.net) or emailed upon request.
Comments may also be submitted electronically to cnmidolwia@gmail.com, fax to 664-1710, mail to DOL-WIA Division Caller Box 10007 Saipan, MP 96950, or in person to DOL-WIA Division, 1353 Mednilla Ave, Capitol Hill.
The modifications for the respective Core Programs, Office of Vocational Rehabilitation and NMC-Adult Basic Education, may be found on their websites: www.ovrgov.net and www.marianas.edu.
Approved by:
/s/
Josephine DLG. Mesta
Chair, SWDB
Click here to view State Plan Modifications
Click here to view WIOA Manual
---
PUBLIC NOTICE January 9, 2018, updated 1/11/18
Effective Monday, January 8, 2018, WIA will be open at its new location, Building No. 1353 Mednilla Ave, Capitol Hill. For assistance, you may contact 664-1757. We apologize for the inconvenience and do appreciate your patience.
---
PRESS RELEASE January 5, 2018
Labor Collecting Data On CW Non-renewals
The CNMI Department of Labor is requesting the assistance of businesses to report data on recent CW-1 visa non-renewals.
Secretary of Labor Vicky Benavente expressed that data on U.S. Citizenship and Immigration Services (USCIS) non-renewals which have been misclassified or put into general occupational categories, including mitigation efforts is currently being compiled.
"The focus is on getting information from the businesses who have received denials for their CW permit applications. We would like the information to get to DOL via telephone or email, at the earliest time. We are compiling the data to demonstrate the impact of the CW permit denials, in terms of how the business revenue is affected, what the businesses are doing to mitigate the loss of their CW employees, and any other information having to do with the CW program," Benavente said.
With the recent passing of H.R. 339 Northern Mariana Islands Economic Expansion Act, Benavente shares that CW-1 visas will generally no longer be available to workers who will be performing jobs classified as construction and extraction occupations in the U.S. Department of Labor's Standard Occupational Classification (SOC) system.
According to USCIS, the CNMI Department of Labor will generally identify the SOC group on the required Job Vacancy Announcement (JVA). While USCIS will consider the job classification identified on the JVA, USCIS is not bound by this determination and may make a separate and independent judgment based on a preponderance of the evidence in each case.
Governor Ralph DLG. Torres added that data collected will help evaluate the mitigation of private sector workforce and better address petitions that have been misclassified on a case by case basis.
"I encourage the private sector to compile their CW workforce data as it relates to USCIS permit non-renewals. This data will serve to illustrate the further impact of the drop in workforce, as well as the issues with the permitting process," Governor Torres said.
For information call 322-0996 or to complete the survey Click Here
Please email completed surveys to Donovan Sablan at donovan.sablan.dol@gmail.com or Elaine Rosario at elainerosario.dol@gmail.com
---
NOTICE TO EMPLOYERS TO COMPLY
Click here to open the Notice to Employers to Comply Document dated December, 2017
Effective January 1, 2015, all employers under the jurisdiction of the Occupational Safety and Health Administration will be required to report all work-related fatalities within eight hours and all in-patient hospitalizations, amputations and losses of an eye within 24 hours of finding out about the incident.
The CNMI's current minimum wage of $7.05 an hour will increase by another 20 cents to $7.25 an hour on September 30, 2018.
It's the Law: Effective January 31, 2014, all Job Vacancy Announcements (JVA) must be posted on the CNMI DOL Website at www.marianaslabor.net.
---
USCIS Fraud Notice:
Employers who abuse the H-1B visa program negatively affect U.S. workers, decreasing wages and job opportunities as they import more foreign workers. To further deter and detect abuse, USCIS has established an email address REPORTH1BABUSE@USCIS.DHS.GOV which will allow individuals (including both American workers and H-1B workers who suspect they or others may be the victim of H-1B fraud or abuse) to submit tips, alleged violations and other relevant information about potential H-1B fraud or abuse. Information submitted to the email address will be used for investigations and referrals to law enforcement agencies for potential prosecution.
Report US Immigration Fraud to ICE: Phone: 1-866-347-2423 (1-866-DHS-2-ICE) Individuals can also report allegations of employer fraud or abuse by submitting Form WH-4 to the US Department of Labor's Wage and Hour Division.
---
Employee Rights in the CNMI:
---
USCIS has reached the CW cap for FY 17
---
The Fair Minimum Wage Act of 2007 (Public Law 110-28) CNMI application timetable:
05/26/2009 - $4.55 per hour
09/30/2010 - $5.05 per hour
09/30/2011 - Delayed
09/30/2012 - $5.55 per hour
09/30/2013 - Delayed
09/30/2014 - $6.05 per hour
09/30/2015 - Delayed
09/30/2016 - $6.55 per hour
09/30/2017 - $7.05 per hour
---
EFFECTIVE SEPTEMBER 29, 2016
THE CNMI DEPARTMENT OF LABOR OFFICE OF THE SECRETARY ISSUES THE FOLLOWING

MORATORIUM NOTICE
N.M.I. ADMINISTRATIVE CODE CHAPTER 80 DEPARTMENT OF LABOR, SUB-CHAPTER 80-20.1 EMPLOYMENT RULES AND REGULATIONS § 80-20.1-210(C)(3) Exemptions from Workforce Participation §80-20.1-215(b) Particular Construction Project. Exemptions issued prior to this notice remains in effect until their expiration date.
This moratorium notice shall be in effect until such time that the CNMI Secretary of Labor publishes a new notice on this matter.
Employee Rights under the Family and Medical Leave Act
Now Hiring section: highlighting employer's hiring programs
MSHA's Educational Field and Small Mine Services Group (EFSMS) to conduct training sessions
Actions to Improve Chemical Facility Safety and Security.
Your rights as a whistle blower
---
---
Regional Job Corps Centers Brochures:
For More Information contact WIA Division at 664-1704/05/07/08.
CNMI College and Career Ready Definition:
A CNMI student is college and career ready when he/she has achieved proficiency in academic standards, acquired essential skills for lifelong learning, and has the ability to transition into higher education and/or the workforce through an on-going process of wayfinding for meaningful engagement.
---
This site is provided as a public service to make the operations of the Department and contacts with the public more efficient and less costly. The Department welcomes suggestions for further development of the site and the coordination or improvement of the Department's services. For information on Federal Minimum Wage Guidelines, please visit the US Department of Labor website.
Technical Assistance:
If you have problems or need technical assistance please contact technical support for fast help.
Last Updated 4/18/2018