As of March 2023, the CNMI DOL website is under construction. Thank you for your patience!

DOL OFFICE CLOSED ON NOV. 17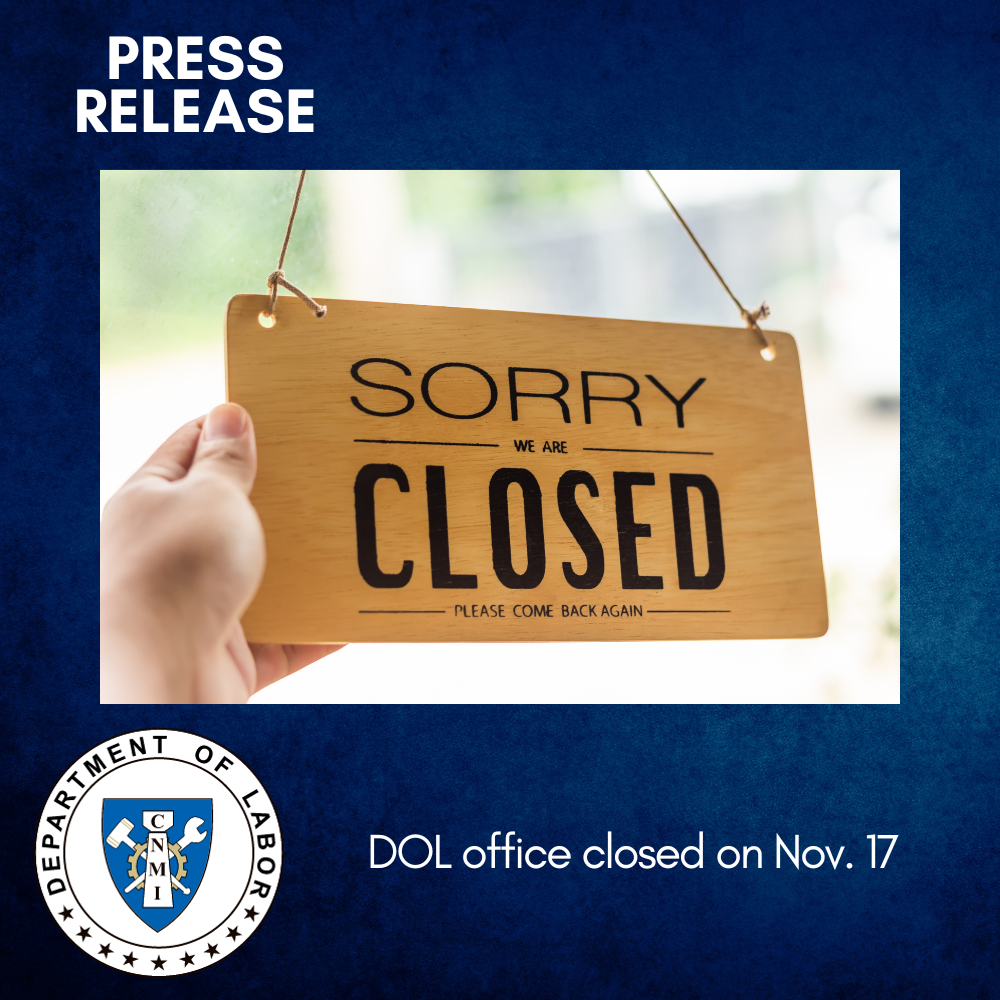 The Department of Labor in the Commonwealth of the Northern Mariana Islands (CNMI) wishes to inform the public that our office will be temporarily closed on November 17, 2023.

This closure is in support of a dedicated Professional Development Training session for our staff.

The training aims to enhance the skills and expertise of our team members, ensuring that we continue to provide top-notch services to the community. We believe that investing in the professional development of our staff is crucial for maintaining high standards and staying abreast of the latest industry practices.

During this closure, our office will not be providing regular services, and we appreciate the public's understanding.

Normal business hours will resume on November 20, 2023.

We apologize for any inconvenience this closure may cause and appreciate your cooperation.

Thank you for your understanding and support as we invest in the continuous growth and development of our team.

For any urgent matters during the closure, you may send it to info@dol.gov.mp.
WIA to host open house at its new satellite office in San Vicente
CNMI Workforce Investment Agency Program Manager Joseph Villacrusis is inviting the public to the San Vicente Youth Center for an "open house" experience of the new WIA satellite office from 4 p.m. to 7 p.m. today, Thursday, Nov. 16.
The San Vicente Youth Center is on San Vicente Loop, next to the basketball court.
WIA's training partners — such as Island Training Solutions — will be on site to offer information about enhancing one's workplace skills, Villacrusis said.
"Because [the San Vicente Youth Center] hasn't been open for a while, we wanted to let the community know that we are there," Villacrusis said. "Anyone interested in training opportunities that can lead them to sustainable employment can come and visit us there."
Villacrusis said the WIA satellite office in San Vicente aims to "provide resources to the community" in the San Vicente, Dandan, and surrounding areas.
WIA clients in the area don't have to travel to Capital Hill to use WIA resources.
"We try to minimize barriers and challenges for our community," Villacrusis said. "Instead of having to travel so far to pick up an application, they can come to our [satellite] office to get our services."
As for WIA's affiliated training partners, they provide training to those who want to enter the "leisure and hospitality; infrastructure; care economy; environmental remediation and mitigation" industries.
Villacrusis said WIA can pay for the training of qualified individuals. Talk to WIA representatives for more information at the open house. You may also call (670) 488-1710/1720 or email cnmiwioa@dol.gov.mp. READ MORE HERE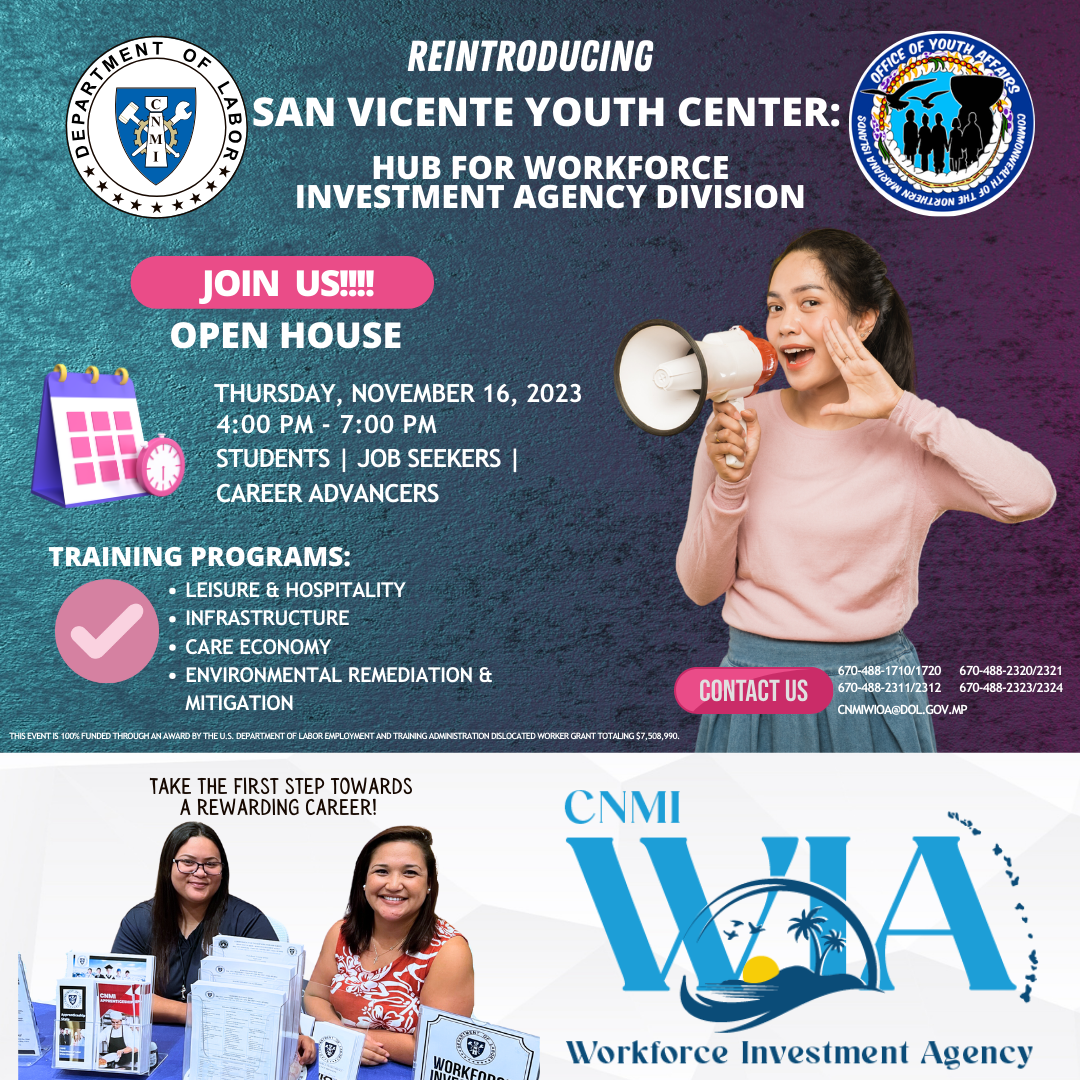 Notice: Phone Service Disruption
The Workforce Investment Agency gives notice of a temporary pho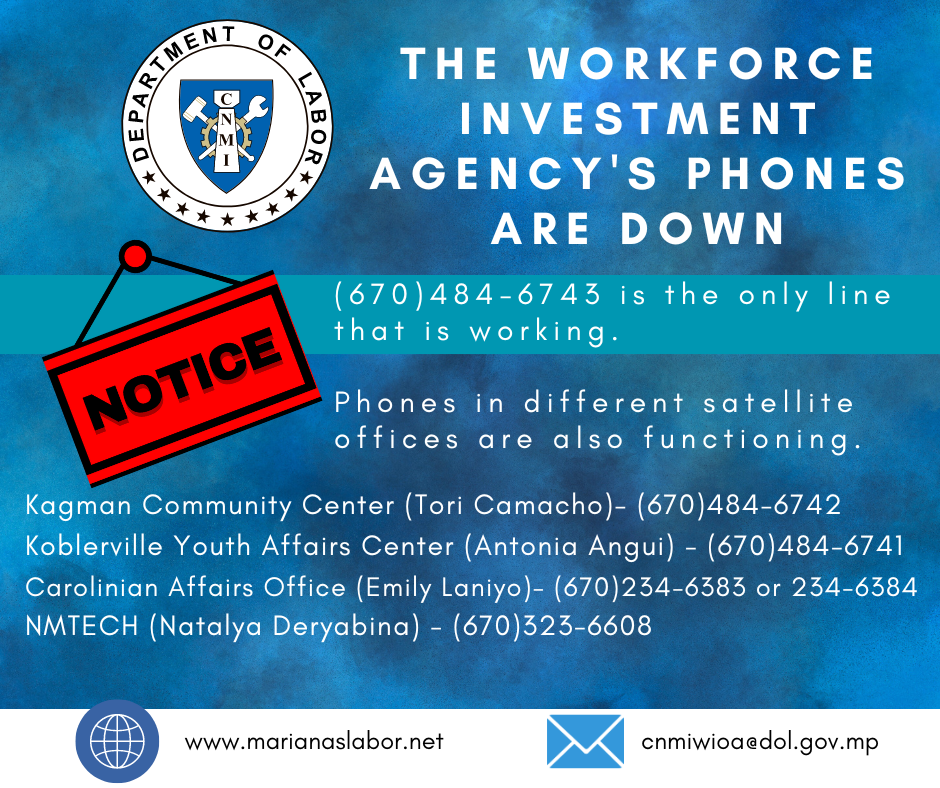 ne service disruption. The agency acknowledges the critical role of communication and is actively addressing the issue to ensure swift resolution.
During this period, clients are encouraged to utilize the following contact options:
Clients can call (670) 484-6743 for assistance.
As an alternative, clients may reach out to the agency's satellite offices for support:
Kagman Community Center (Tori Camacho) - (670) 484-6742
Koblerville Youth Affairs Center (Antonia Angui) - (670) 484-6741
Carolinian Affairs Office (Emily Laniyo) - (670) 234-6383 or (670) 234-6384
NMTECH (Natalya Deryabina) - (670) 323-6608
The Workforce Investment Agency appreciates the understanding and patience of its clients during this period of disruption. Rest assured that restoring full phone services remains a top priority, and the agency is dedicated to meeting the workforce needs of its clients. ?? #WIAUpdates #PhoneServiceDisruption
CNMI hosts inaugural Safety Conference
The 1st CNMI Safety Conference, brought to you by CNMI OSHA, NMTECH, and the University of California San Diego, was a resounding success! Timothy Asaivao, OSHA's Project Manager said, "Majority of the workers in CNMI are not from the US and being a US territory, we must adhere to US federal regulations. In the field, we see that they are not doing it on purpose, but because the are unaware and uneducated on what are the correct actions are to do."

Date: August 21-22, 2023
Location: Crowne Plaza

We want to express our heartfelt gratitude to everyone who participated and contributed to making this event such a great success. Stay tuned for future updates and more opportunities to enhance safety practices in the CNMI. Together, we continue to prioritize safety! #CNMISafetyConference #SafetyFirst
Let's keep CNMI working! 2023 Job Fair
The CNMI Department of Labor (CNMI DOL) announces that it will be hosting a job fair at Crowne Plaza's Hibiscus Hall on Friday, September 15, 2023, from 9:00 am to 3:00 pm. The highly anticipated in-person event will feature various employers from a wide range of industries from construction, manpower services, retail, hospitality services and more. The Department's theme for this year's fair, "Let's Keep the CNMI Working" is a call to address the imminent "touchback" policy set to go into effect on September 30, 2023. With the "touchback" rule surely going to affect the CNMI's workforce, the Department continually strives to mitigate the impacts of this policy by conducting this Job Fair. We seek to provide the means to bolster the CNMI's local workforce and economy at such a crucial moment.
For employers, you can scan the QR code below to register or click HERE.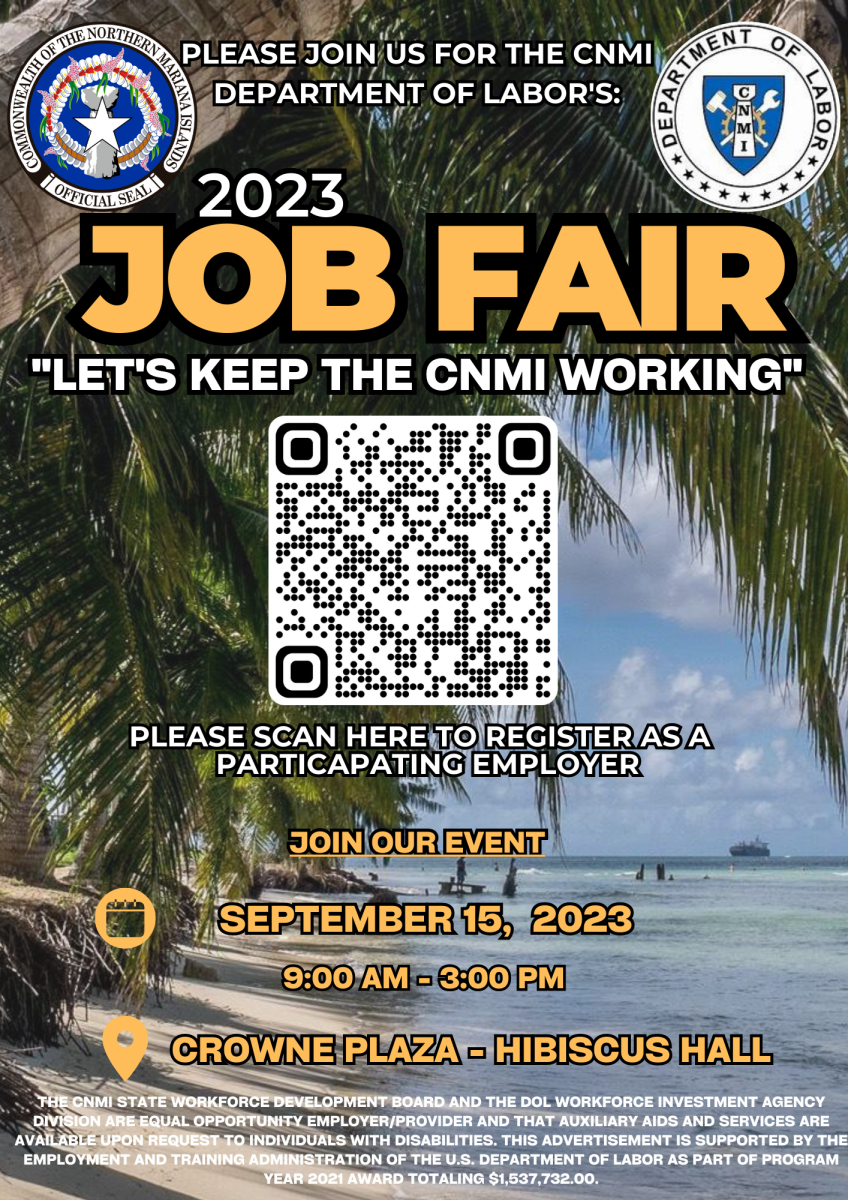 The CNMI State Workforce Development Board and the DOL Workforce Investment Agency Division are Equal Opportunity Employer/provider and that auxiliary aids and services are available upon request to individuals with disabilities. This event is 100% funded through the U.S. Department of Labor Employment and Training Administration Workforce Innovation and Opportunity Act Title 1 Grant totaling $1,537,732.00 for program year 2021.
CNMI OSHA is hiring
Join the Department of Labor, as an Industrial Hygienist under CNMI OSHA. In this role, you'll conduct comprehensive industrial hygiene surveys, develop essential Occupational Safety and Health standards, and offer expert guidance to ensure worker well-being. A Bachelor's degree in industrial hygiene, environmental science, chemistry, or mechanical engineering, along with two years of relevant experience, is the minimum requirement. To apply, submit your application forms to designated Civil Service Commission- OPM offices in Saipan, Rota, and Tinian. Your role will play a vital part in safeguarding workplace health and safety across the CNMI region. Application closing date is on Sept. 5, 2023 READ THE JVA HERE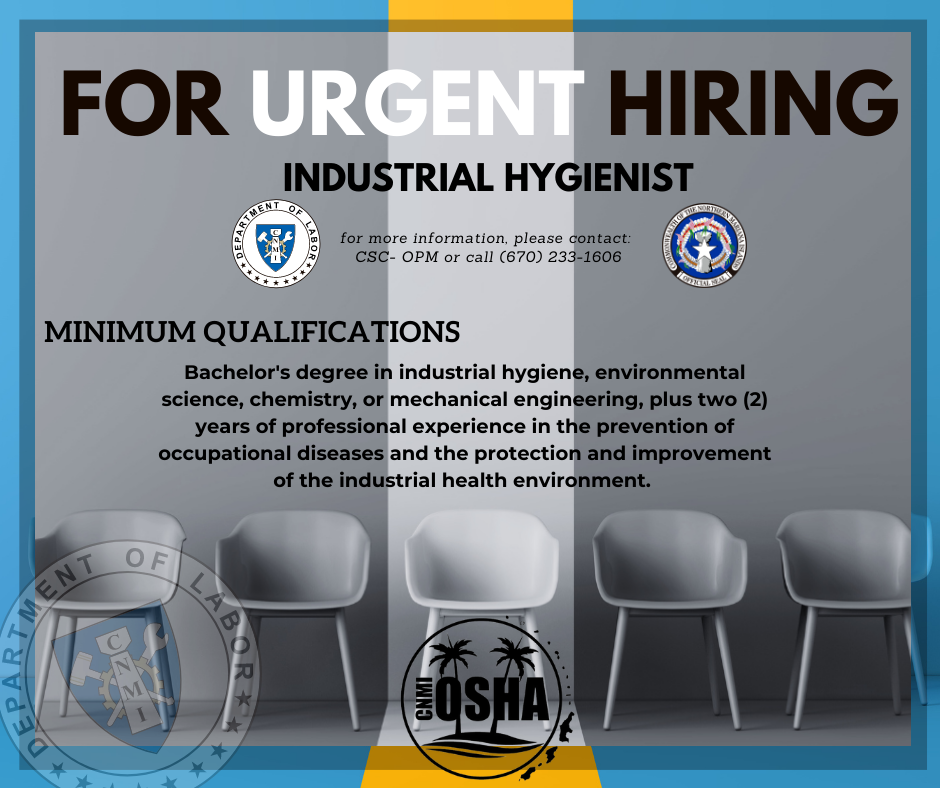 CNMI DOL touts Registered Apprenticeship Program
The CNMI Department of Labor would like to promote the CNMI Registered Apprenticeship Program across the Marianas by informing possible participants and future employers of how it works and why they should take advantage of these opportunities. Especially with the touchback looming in the not too distant future, taking advantage of a Registered Apprenticeship Program can help your business in the long term by investing in U.S. and U.S. eligible workers who don't need visas to work in the CNMI.
What are the benefits to participants in becoming a registered apprentice?
The benefits to an individual who participates in a Registered Apprenticeship Program or RAP is that they earn while they learn. Which means, they will receive training by an identified mentor within the work sponsor/employer and get paid for it. An approved Work Process Schedule is used during this portion of the training, also known as the On-the-Job Learning or OJL component of the RAP. Additionally, the work process schedule includes an outline of courses that the apprentice must take and successfully complete, which is called the Related Training Instruction component of a RAP. These courses may be taken with a training provider and/or a postsecondary institution such as Northern Marianas College. These courses may be fully subsidized — FREE! — by the CNMI Workforce Investment Agency through the Workforce, Innovation, and Opportunity Act's Title 1 programs. After the successful completion of their RAP, the apprentice receives a nationally recognized credential from the U.S. Department of Labor.
What are the benefits to employers?
The benefits for employers include a fifty percent reimbursement of the apprentice's wage to cover the extraordinary cost associated with their RAP training. This is a great incentive to any employer who wants to participate in a RAP. The work process schedule can be catered to the employer's needs. In other words, employers can choose the courses in the apprentice's RTI, as well as the standards created for the OJL portion. There is no additional cost to the employer for participating in a RAP. This allows employers to upskill their current workforce while creating a pipeline of skilled workers. This little to no cost training approach counters the expenses of hiring foreign labor. Thus, this allows employers to start preparing for their future workforce needs especially with the anticipated phase out of CW-1 permits.
How does the CNMI benefit from apprentices in the workplace?
A Registered Apprenticeship Program offers an affordable training opportunity for individuals who may not have the resources to attend college. The cost of a Registered Apprenticeship Program to individuals is little to no cost which makes it more attractive, especially because they will be earning a wage at the same time. Employers also greatly benefit from this because they are building a skilled workforce without interrupting their operations and/or services. It also doesn't cost them anything other than the time and energy to train apprentices. This can greatly impact the CNMI's economy by building a sustainable workforce with employees who earn competitive wages making them afford the cost of living. The earnings they make will circulate into our economy instead of money going outside the CNMI which is often the case with our foreign workers. Businesses investing in their workforce by employing U.S. eligible workers can see a positive Return on Investment at the end of each RAP training.
READ THE ARTICLE HERE
WIA announces CNMI SkillUP Expo Schedule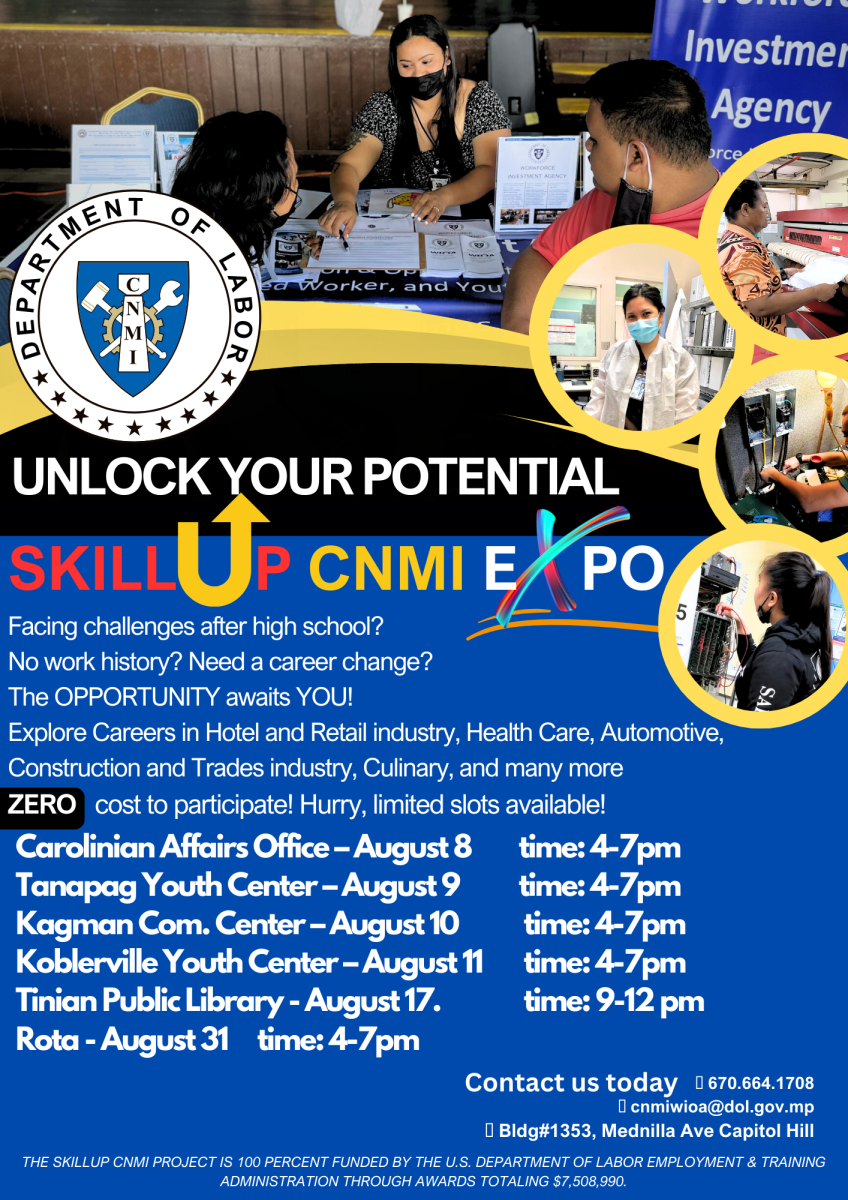 Are you a high school graduate in pursuit of new avenues for you?
Are you considering a strategic shift in your professional trajectory despite a lack of prior work engagements?
We are thrilled to introduce the SkillUp CNMI Expo—an event designed precisely for individuals like you. This Expo serves as a gateway to unlocking your latent potential and embarking on a journey of exploration across a spectrum of captivating career paths spanning multiple industries.
Ranging from Hospitality and Retail, Healthcare, Automotive, Construction, Trades, to the Culinary arts, this event offers an array of choices.
What sets this event apart? It is our privilege to extend an invitation to participate in this Expo absolutely free of charge.
Your aspirations and growth are at the core of this initiative, and we are committed to removing financial barriers.
Act swiftly, as the available slots are rapidly diminishing and the venue's capacity is limited.
For details, please refer to the provided schedule or reach out to us at 670-664-1708.
This is an opportunity to sculpt your future.
We eagerly anticipate your presence at the SkillUp CNMI Expo, where you can take decisive steps towards your career evolution.
The SKILLUP CNMI project is 100 percent funded by the U.S. Department of Labor Employment & Training Administration through awards totaling $7,508,990.
1st CNMI Safety Conference
The Department of Labor is delighted to extend a cordial invitation to all interested parties to partake in the inaugural CNMI Safety Conference. This event, presented in collaboration with CNMI OSHA, NMTECH, and the University of California San Diego, is an opportunity for professional growth and enrichment.
Delve into a comprehensive array of pivotal subjects, including the signing of alliance agreements, trenching and excavation protocols, OSHA record keeping best practices, machine guarding intricacies, construction safety methodologies, and overarching principles of general industry safety.
Mark your calendars for the significant dates of August 21-22, 2023, as the conference will be held at the prestigious Crowne Plaza. Proceedings will commence promptly at 8 AM and adjourn at 4 PM each day, ensuring an insightful and time-efficient experience for all participants.
Act swiftly to secure your participation as the registration deadline of August 18, 2023, approaches imminently. This is a rare chance to acquire invaluable insights and expertise.
For comprehensive details and to reserve your place at this eminent gathering, kindly reach out to Benjamin Babauta at benjamin.babauta@nmtechcnmi.org or place a call to 670-323-6602. Alternatively, direct your inquiries to CNMI OSHA at cnmiosha@dol.gov.mp or contact them at 670-664-3154/55.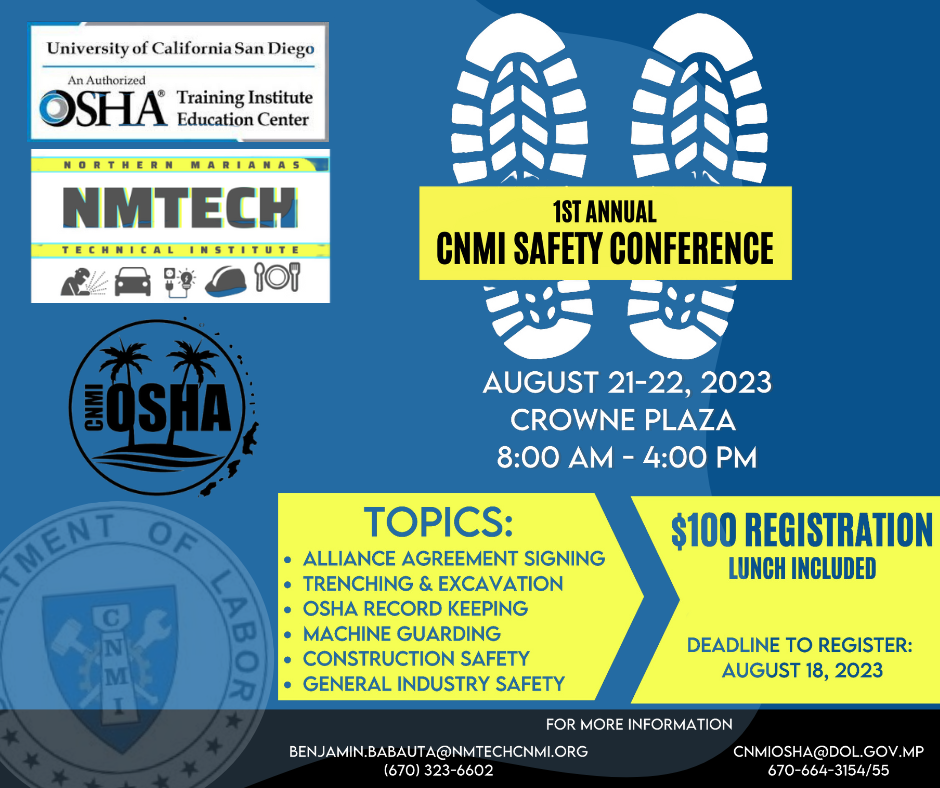 Employers Guide 2023
The Division of Enforcement Services recently released an Information Guide for Employers. This flier contains Frequently Asked Questions, potential violations and other Labor Guidance. Download the flier HERE.
CNMI State Workforce Development Board Program Year (PY) 2022 4th Quarter General Membership meeting on June 26, 2023
In accordance with Public Law 8-41, Section 11(a), the CNMI State Workforce Development Board hereby gives notice that it will hold its Program Year (PY) 2022 4th Quarter General Membership meeting on June 26, 2023 from 9:00am – 12:00pm at the Hyatt Regency, Giovanni's Room.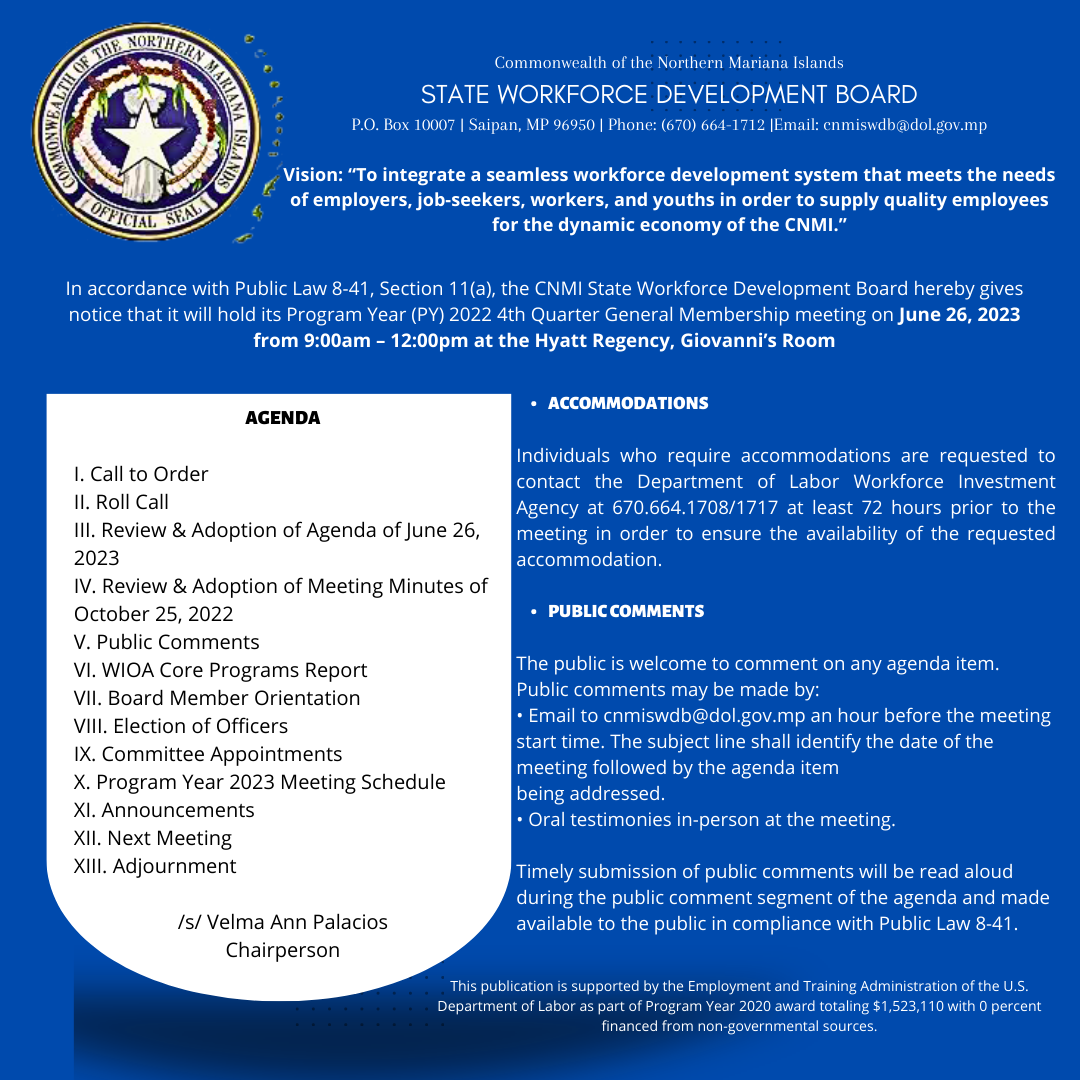 CNMI DOL launches official Facebook Page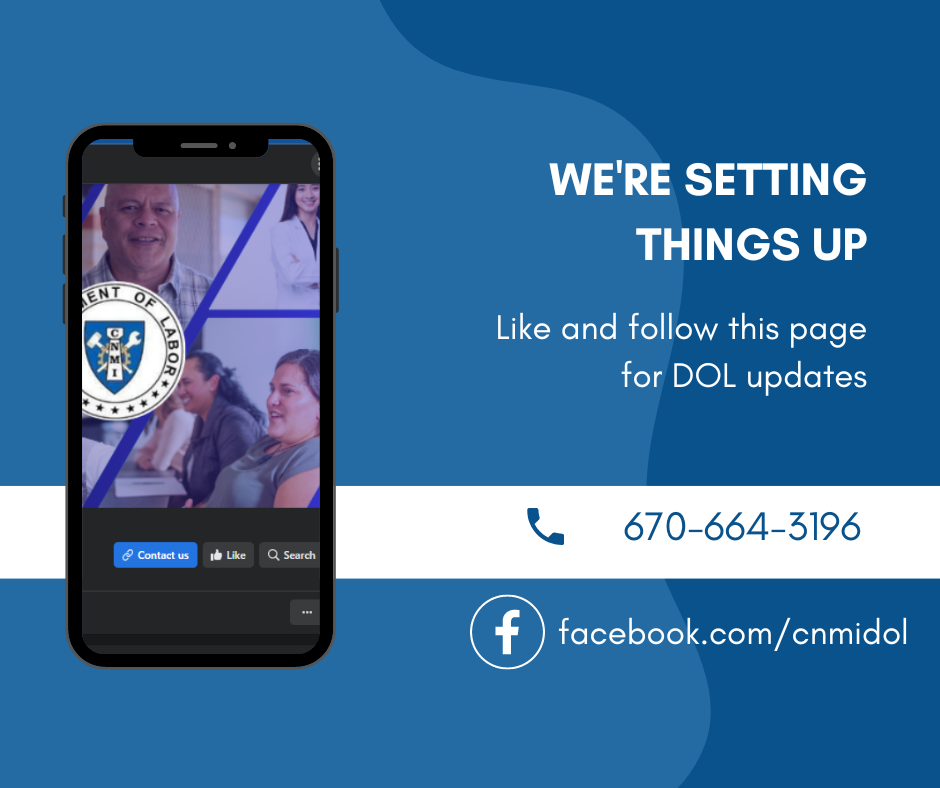 Employers urged to prepare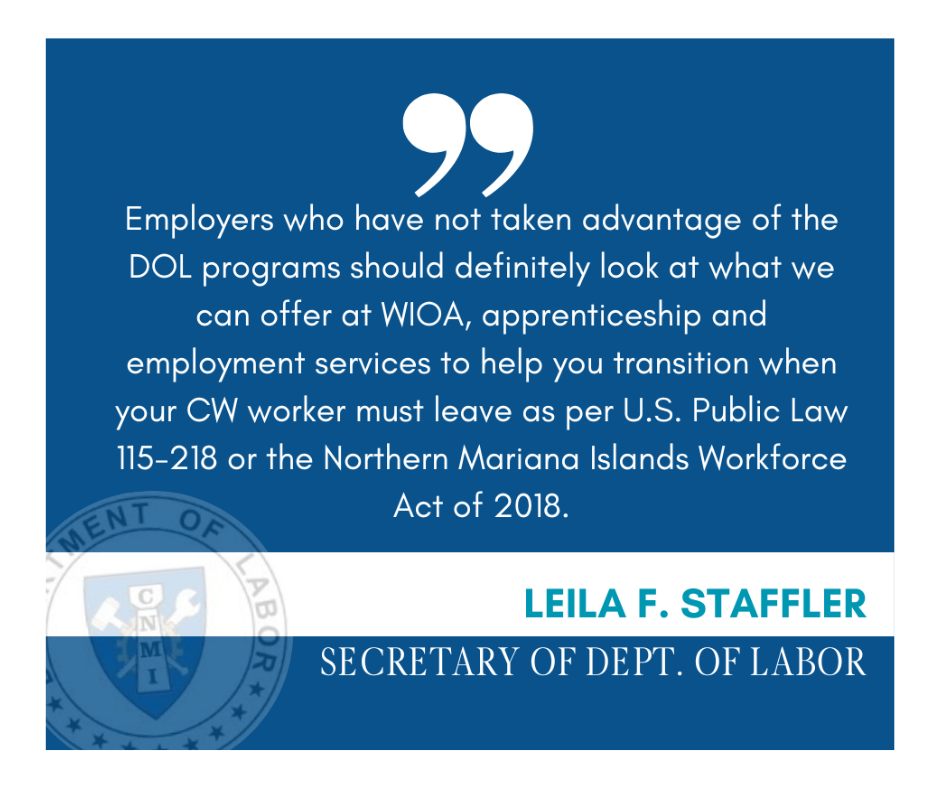 Read the article HERE.
With just 100 days to go before the implementation of the "touchback" rule that would require hundreds of foreign workers to exit the CNMI, many Commonwealth businesses and affected workers are now girding themselves for what is expected to be a temporary labor vacuum that could impact daily operations.
Because the CNMI's hands are tied when it comes to the expected implementation of the touchback rule this September, the CNMI Department of Labor continues to urge local businesses to reach out to DOL to see how they can help fill labor gaps.
Labor Secretary Leila Staffler concedes that the departure of many CNMI-Only Transitional Visa Workers is worrisome, but she wants the business community to know that all hope is not lost.
She said the CNMI has some great training programs in place and she encourages employers to look into DOL's programs in the meantime as the department is willing and ready to help in the transition from contract workers to local workers.
"Employers who have not taken advantage of the DOL programs should definitely look at what we can offer at WIOA, apprenticeship and employment services to help you transition when your CW worker must leave as per U.S. Public Law 115-218 or the Northern Mariana Islands Workforce Act of 2018," she said.
Currently, Staffler said, there is no clear picture of home many workers will be leaving, but she hopes to gain some insight in the next couple of weeks as employers fill out DOL's ongoing foreign labor survey. "To be honest, I do not expect to have a clear picture.
If businesses and agencies do not share their data, then I have no picture. [U.S. Citizenship and Immigration Services] does not share this information. Yet. I'm working on building a relationship with them. The U.S. Department of Labor doesn't know the information because it is USCIS that processes the applications. USDOL just approves and monitors the CW funding plans. The survey was my attempt at getting the information," she said.
Pandemic Unemployment Assistance Program Overpayments
The CNMI Department of Labor (DOL) would like to remind individuals who have received Pandemic Unemployment Assistance (PUA) and Federal Pandemic Unemployment Compensation (FPUC) benefits in the CNMI and were found to have been overpaid to contact DOL to settle the overpayment. In response to the COVID-19 pandemic, the PUA and FPUC programs were established to provide financial support to those who were unemployed, partially unemployed, or unable and/or unavailable to work as a direct result of the pandemic. However, some recipients in the CNMI may have received more benefits than they were eligible for due to several reasons, such as, but not limited to incorrect/incomplete earnings reported, failure to report their return to work or earnings, or withholding of pertinent employment information. Recipients who have received a Notice of Overpayment are encouraged to promptly repay the overpaid balance. To assist in the repayment process, DOL offers options including making a one-time payment, setting up a scheduled repayment plan, or having the overpayment deducted from future PUA benefits, if applicable. To explore your repayment options, please contact the DOL's Benefit Payment Control (BPC) Unit. It is important for individuals to promptly report any changes as well as provide all required and requested documents to avoid overpayment and future offset of applicable benefits, such as tax refunds or wage garnishments. If you have questions about your PUA benefits or overpayments in the CNMI, please contact the CNMI Department of Labor Benefit Payment Control Unit at (670) 322-9941, (670) 322–9943, or (670) 322-9944 for more information or email bpc.cnmidol@gmail.com.
Track Your Hours: Just Tap the App
Employees and employers can keep accurate records of hours on the job. The DOL-Timesheet App helps track regular work hours, break time, and overtime hours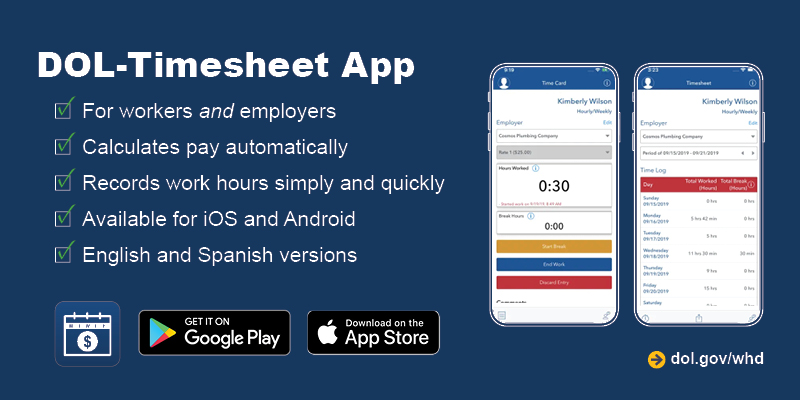 .
The new version of the app also enhances the comments capability, offers multiple pay frequency options, and additional pay calculations.
(CLICK THE PHOTO BELOW TO DOWNLOAD FOR IOS/ANDROID)
Features:
Employer and employee options

Calculates pay automatically

Records work hours simply and quickly

Free for iOS and Android

Available in English and Spanish
$33M PUA, FPUC overpayments collected
The CNMI Department of Labor has collected to date $33 million in total overpayments in Pandemic Unemployment Assistance and Federal Pandemic Unemployment Assistance funds. Speaking at the House of Representatives Ways and Means Committee's hearing on Labor's proposed 2024 budget last Wednesday, Labor Benefit Payment Control auditor Vince Sablan said they have collected $15,963,000 in PUA overpayments to date and $17,772,000 million in PFUC overpayments—for a total of $33,735,000 in overpayments. READ MORE
Assessing the Impact of the CW-1 Visa departure requirements on Businesses in the CNMI
The Department of Labor in the Commonwealth of the Northern Mariana Islands (CNMI DOL) is conducting a survey to understand how the CW-1 visa "touchback policy" is affecting businesses in the region. Questions in this survey were chosen in collaboration with the Saipan Chamber of Commerce.

To access the survey, scan this QR code or go to: https://bit.ly/3OW0QxV
'Touchback rule will impact our capacity to complete federally funded projects'
Labor Secretary Leila Staffler echoed the sentiment of Rep. Blas Jonathan T. Attao (Ind-Saipan) Wednesday about the impact of the touchback rule on the CNMI's capacity to complete by the deadline many federally funded projects, considering that the Commonwealth does not have enough construction workers.
With the data that they have, Staffler said they know that if they take every single graduate from every single program in any entity on the islands, the CNMI still would not be able to meet the gap that losing all foreign workers would create. READ MORE
JOB TRENDS AND DATA
The 1st quarter of 2023 had a 20% increase in job openings when compared to the previous quarter (4th quarter 2022), but also shows an 18% decrease when compared to the 1st quarter of 2022. Data shows that while there is a gradual increase in the number of job openings available on the Department's website as Covid-19 restrictions wane, the increase is only nominal and pales in comparison to pre-pandemic levels. Historically, the 1st and 2nd quarters of each year yield the highest amount of job openings.
For the first quarter of 2023, the top 10 occupational groups most sought after by employers were as follows:
1) Construction and Extraction – 2,543 job openings
2) Installation, Maintenance, and Repair – 457 job openings
3) Building and Grounds Cleaning and Maintenance – 251 job openings
4) Production – 203 job openings
5) Food Preparation and Serving Related – 175 job openings
6) Personal Care and Service – 117 job openings
7) Healthcare Practitioners and Technical – 108 job openings
8) Transportation and Material Moving – 41 job openings
9) Office and Administrative Support – 40 job openings
10 Business and Financial Operations – 36 job openings
Secretary of CNMI Labor - Sec. Leila F. Staffler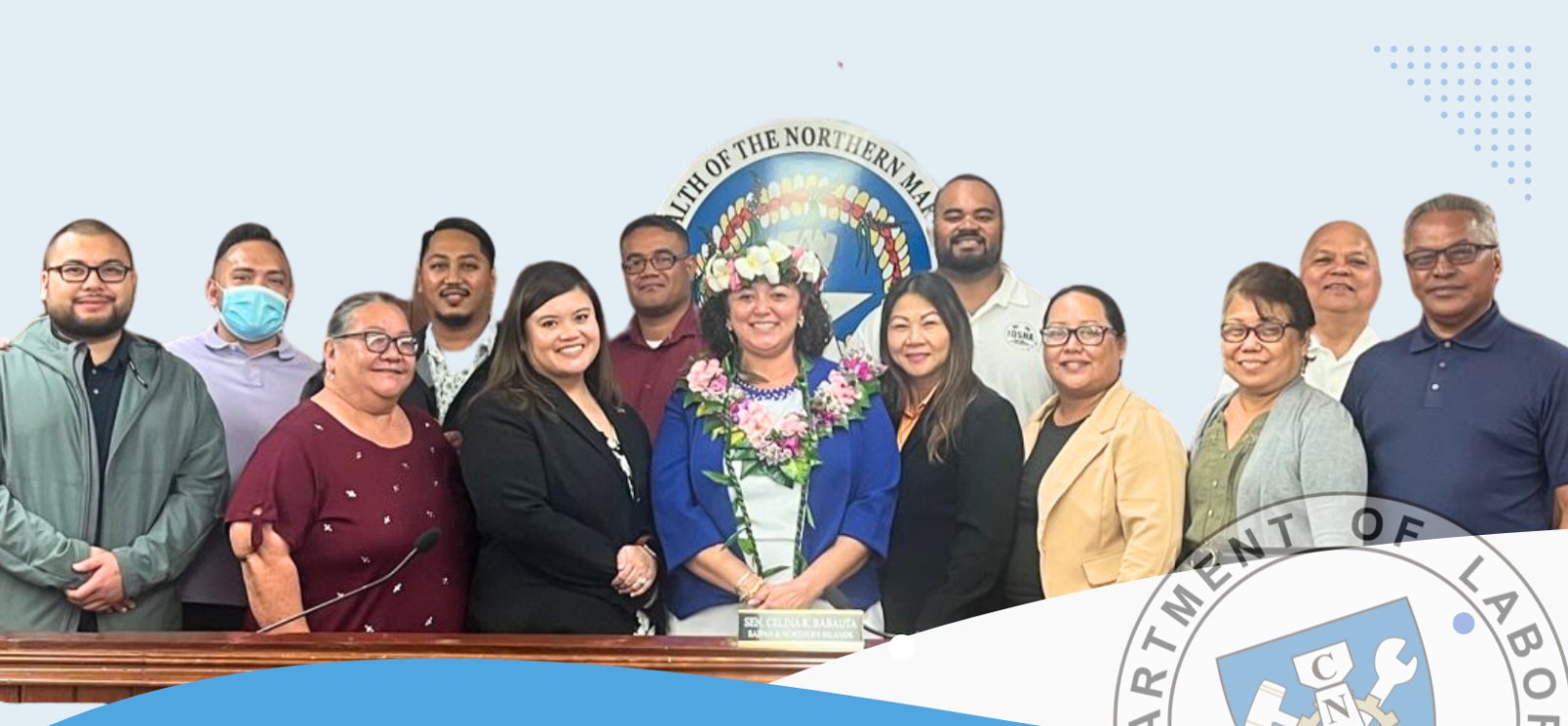 Leila Staffler assumed the role of Acting Secretary of Labor for the Commonwealth of the Northern Mariana Islands on January 13, 2023. Following her confirmation by the CNMI Senate on March 29, 2023, she brought her extensive experience in education and leadership to her new role.
As a former educator, administrator, and principal with nearly twenty years of experience in the public education system, Staffler has a deep understanding of the challenges facing both workers and employers. Her prior role as a member of the Northern Mariana Islands House of Representatives for the 5th district, where she chaired the House Education Committee, SNILD Zoning Committee, and was Vice-Chair of the House Committee on Health and Welfare, gave her insight into the political process and the complex legislative landscape that affects labor policy.
Moreover, Staffler's background as a leader and administrator equips her with the skills necessary to manage complex organizations and work effectively with diverse stakeholders, qualities that are especially relevant in her new position as Secretary of Labor.
In addition to her extensive experience, Staffler's educational background gives her a unique perspective on the importance of creativity and innovation in the workplace. Her undergraduate degree in studio art and Master's Degree in Educational Leadership and Education highlight her commitment to education as a means of preparing workers for the demands of an ever-evolving labor market.
With her background and experience, Secretary Staffler is well-suited to manage the Department of Labor and make a meaningful impact on labor policy. Her commitment to education and creativity will undoubtedly be an asset to the Department of Labor as it strives to provide workers with the necessary support to succeed.
Kilili workforce bills crucial to local economy
If enacted into law, the two workforce bills introduced by U.S. Congressman Gregorio Kilili Camacho Sablan would benefit the local economy, acting CNMI Labor Secretary Leila F. Staffler said.
The two bills are: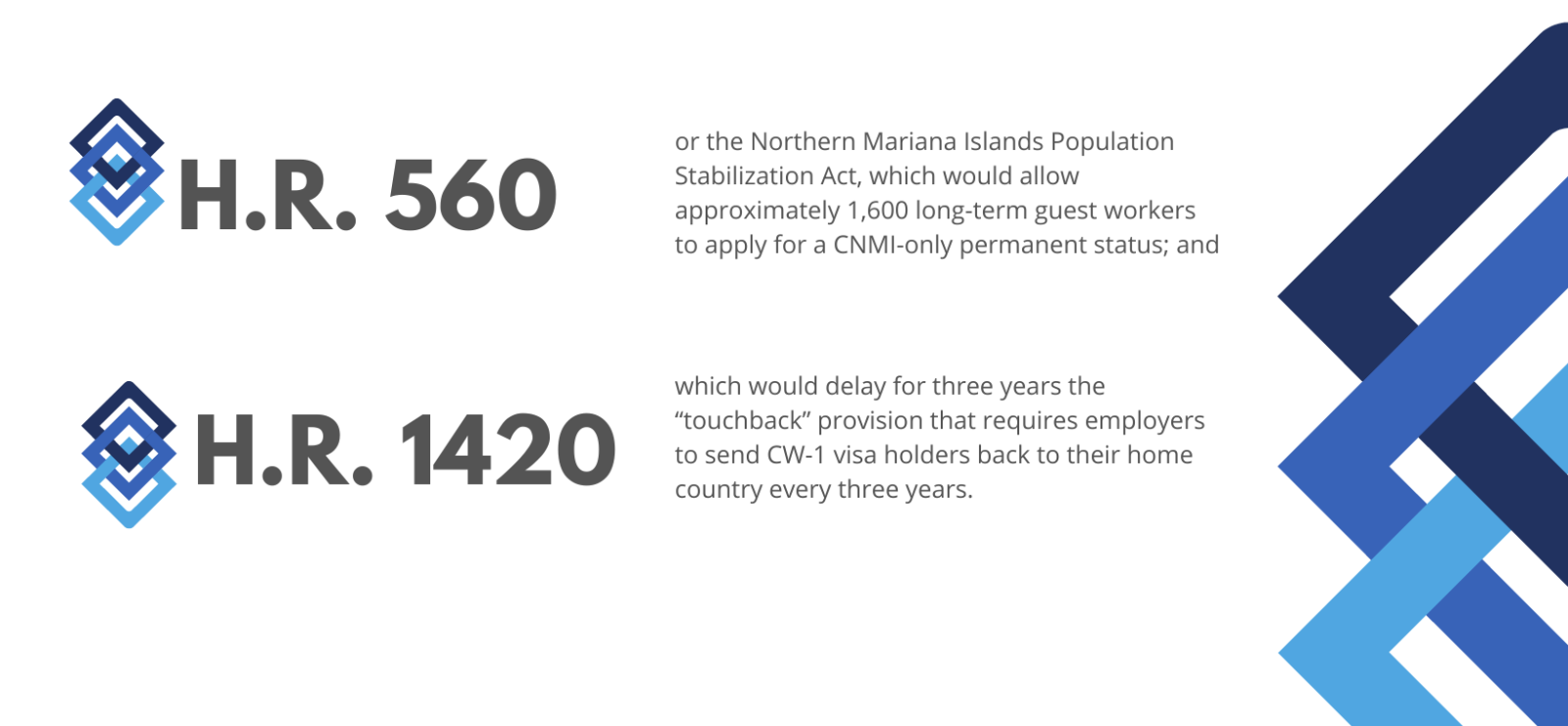 "If H.R. 560 goes through it will really help give us more people to consider as part of our workforce in the long term. Our whole goal is to meet our industry needs," Staffler told Variety in an interview. READ MORE
USDOL expands NMI private-public partnerships in registered apprenticeship programs
The U.S. Department of Labor Office of Apprenticeship has approved the CNMI's first Registered Apprenticeship Program or RAP in the accommodation and food services industry. Naked Fish Bar & Grill received its certificate of authentication by USDOL affirming registration to the National Apprenticeship System their RAP for the occupation of cook. The company has started its registered apprenticeship program for one of their staff members to become a cook apprentice.
"Transcends, LLC, dba Naked Fish Bar & Grill is thrilled to be the first restaurant establishment in the CNMI to join the apprenticeship program for the position of cook. This program was made easy to understand by the CNMI Department of Labor staff and managers. Although very busy themselves, they always accommodated my busy schedule and came down to my place of business rather than require that we meet at their office. Overall, I am pleased with their services and response time whenever I had questions. I strongly encourage all businesses to consider the apprenticeship program or the other various workforce development programs. This is truly a win-win-win situation for all involved," said Joe C. Guerrero, co-owner and general manager. READ MORE