As of March 2023, the CNMI DOL website is under construction. Thank you for your patience!

JOB TRENDS AND DATA
The 1st quarter of 2023 had a 20% increase in job openings when compared to the previous quarter (4th quarter 2022), but also shows an 18% decrease when compared to the 1st quarter of 2022. Data shows that while there is a gradual increase in the number of job openings available on the Department's website as Covid-19 restrictions wane, the increase is only nominal and pales in comparison to pre-pandemic levels. Historically, the 1st and 2nd quarters of each year yield the highest amount of job openings.
For the first quarter of 2023, the top 10 occupational groups most sought after by employers were as follows:
1) Construction and Extraction – 2,543 job openings
2) Installation, Maintenance, and Repair – 457 job openings
3) Building and Grounds Cleaning and Maintenance – 251 job openings
4) Production – 203 job openings
5) Food Preparation and Serving Related – 175 job openings
6) Personal Care and Service – 117 job openings
7) Healthcare Practitioners and Technical – 108 job openings
8) Transportation and Material Moving – 41 job openings
9) Office and Administrative Support – 40 job openings
10 Business and Financial Operations – 36 job openings
Secretary of CNMI Labor - Sec. Leila F. Staffler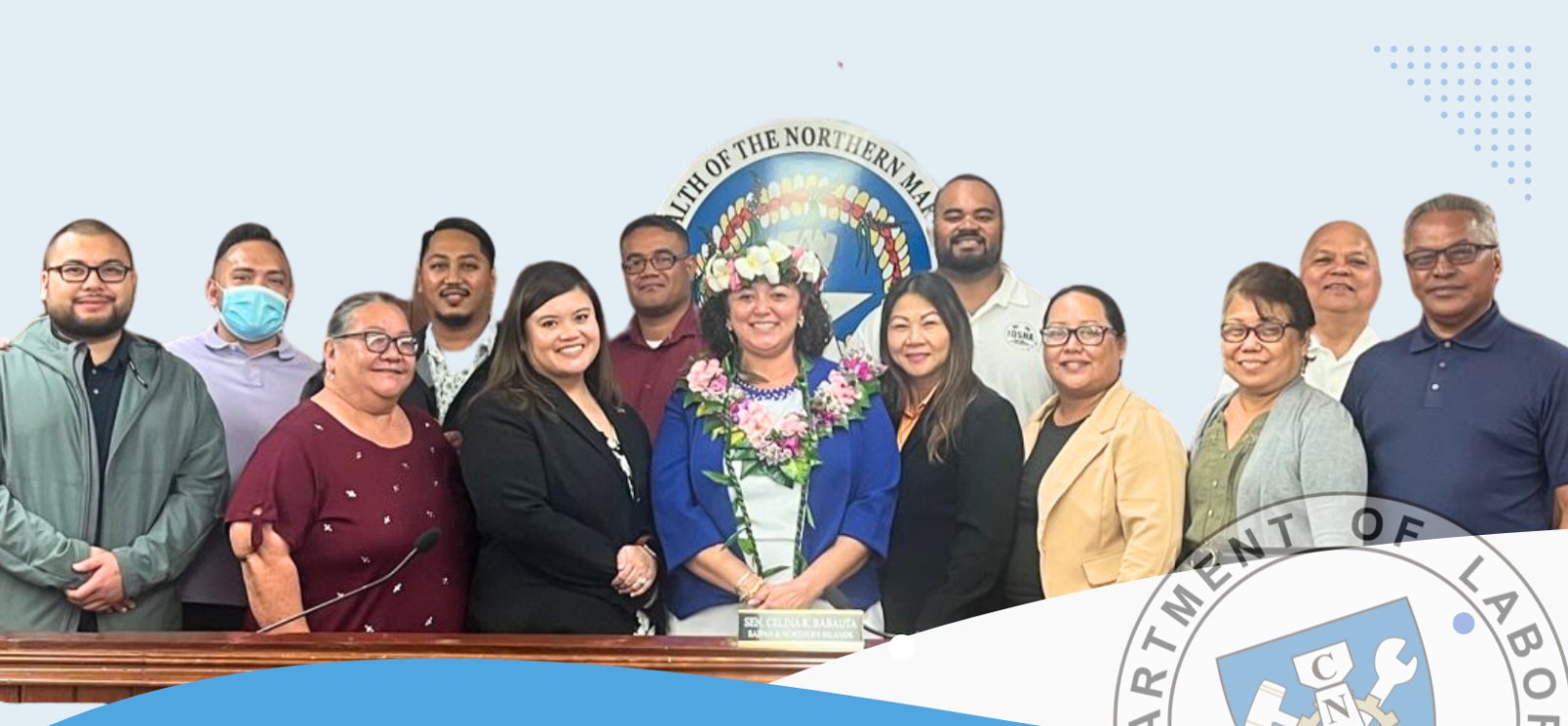 Leila Staffler assumed the role of Acting Secretary of Labor for the Commonwealth of the Northern Mariana Islands on January 13, 2023. Following her confirmation by the CNMI Senate on March 29, 2023, she brought her extensive experience in education and leadership to her new role.
As a former educator, administrator, and principal with nearly twenty years of experience in the public education system, Staffler has a deep understanding of the challenges facing both workers and employers. Her prior role as a member of the Northern Mariana Islands House of Representatives for the 5th district, where she chaired the House Education Committee, SNILD Zoning Committee, and was Vice-Chair of the House Committee on Health and Welfare, gave her insight into the political process and the complex legislative landscape that affects labor policy.
Moreover, Staffler's background as a leader and administrator equips her with the skills necessary to manage complex organizations and work effectively with diverse stakeholders, qualities that are especially relevant in her new position as Secretary of Labor.
In addition to her extensive experience, Staffler's educational background gives her a unique perspective on the importance of creativity and innovation in the workplace. Her undergraduate degree in studio art and Master's Degree in Educational Leadership and Education highlight her commitment to education as a means of preparing workers for the demands of an ever-evolving labor market.
With her background and experience, Secretary Staffler is well-suited to manage the Department of Labor and make a meaningful impact on labor policy. Her commitment to education and creativity will undoubtedly be an asset to the Department of Labor as it strives to provide workers with the necessary support to succeed.
Kilili workforce bills crucial to local economy
If enacted into law, the two workforce bills introduced by U.S. Congressman Gregorio Kilili Camacho Sablan would benefit the local economy, acting CNMI Labor Secretary Leila F. Staffler said.
The two bills are: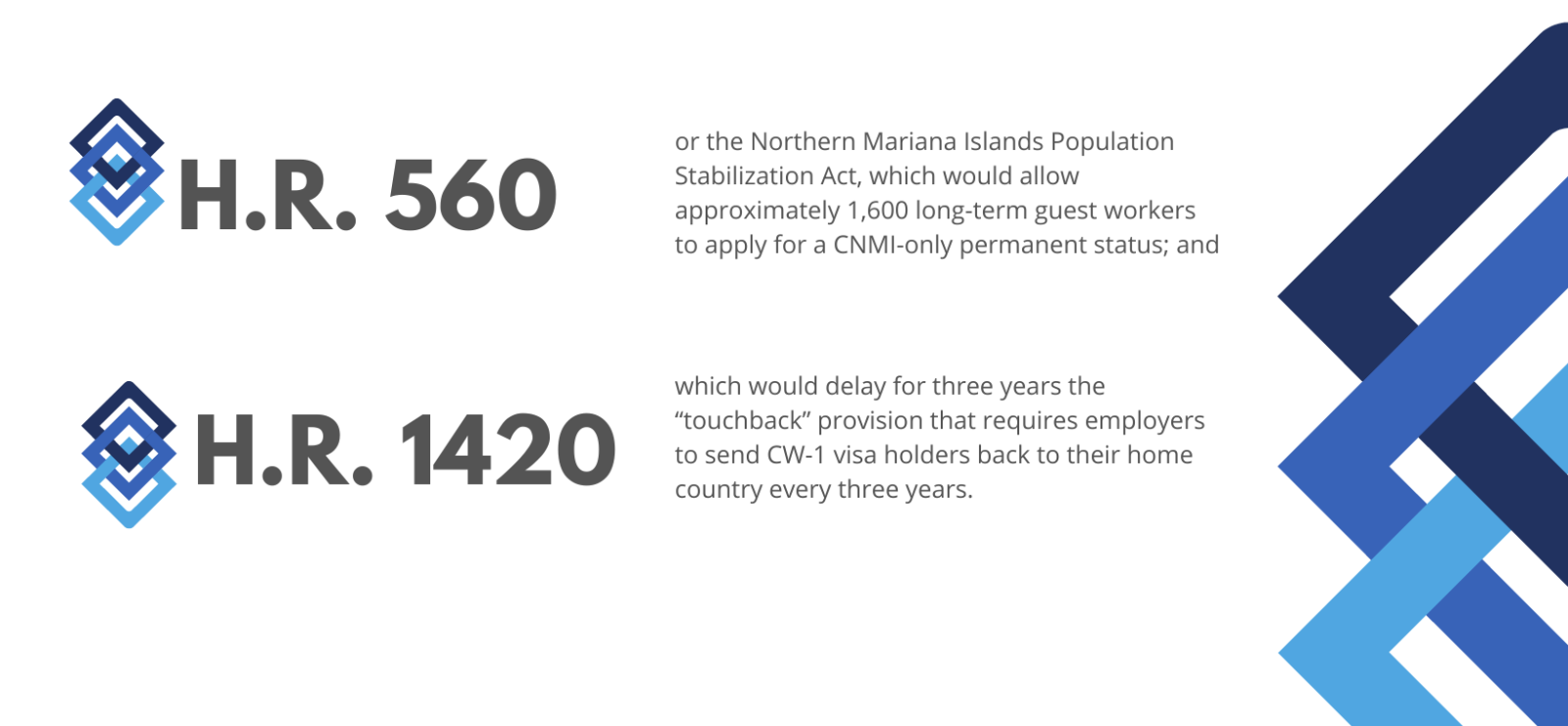 "If H.R. 560 goes through it will really help give us more people to consider as part of our workforce in the long term. Our whole goal is to meet our industry needs," Staffler told Variety in an interview. READ MORE
USDOL expands NMI private-public partnerships in registered apprenticeship programs
The U.S. Department of Labor Office of Apprenticeship has approved the CNMI's first Registered Apprenticeship Program or RAP in the accommodation and food services industry. Naked Fish Bar & Grill received its certificate of authentication by USDOL affirming registration to the National Apprenticeship System their RAP for the occupation of cook. The company has started its registered apprenticeship program for one of their staff members to become a cook apprentice.
"Transcends, LLC, dba Naked Fish Bar & Grill is thrilled to be the first restaurant establishment in the CNMI to join the apprenticeship program for the position of cook. This program was made easy to understand by the CNMI Department of Labor staff and managers. Although very busy themselves, they always accommodated my busy schedule and came down to my place of business rather than require that we meet at their office. Overall, I am pleased with their services and response time whenever I had questions. I strongly encourage all businesses to consider the apprenticeship program or the other various workforce development programs. This is truly a win-win-win situation for all involved," said Joe C. Guerrero, co-owner and general manager. READ MORE